Building Blocks Performed by Tim Kubart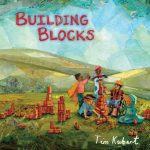 Welcome to the first post of 2019! What better way is there to start the year than with Tim Kubart's joy-filled album, Building Blocks? Released in fall 2018, this GRAMMY-nominated album is packed with Kubart's signature upbeat pop sound. Many of the tracks speak to milestones in a child's life – the first time jumping in the deep end, riding a bike without training wheels, and getting a pet – but with lyrics that stretch beyond that experience. A great example of this is the boppy "Jump Right In" which details a child mentally gearing up to leap into the pool while his whole family looks on and includes the lyric, "nothing to be scared of, when you're surrounded by love."
Kubart skillfully, positively affirms all of the experiences of childhood. Released as a full-length picture book in 2018, and now a track on this album, the lighthearted "Oopsie-Do!" let's children know that it's ok to make mistakes while "Day One" speaks to a child's first time leaving for school. Told from the child's point-of-view, this will tug at every parent's heartstrings. Take a look.
Several special guests pop up including Steve Burns (Blues Clues) on the construction-themed "It's Going Up," the Woodward Parkway Junior Chorus on "We Are Growing" and Genevieve Goings (Disney Junior's Choo Choo Soul), Carly Ciarrocchi (Sprout House) and Drue Davis (Postmodern Jukebox) on the celebration-filled final track, "Block Party." Building Blocks is a pure delight that families will enjoy listening to again and again.
Enjoy the video for "Ready For You," a tale of children who have been proving they are ready to take on the responsibility of a pet, below.