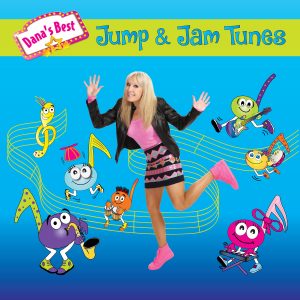 Just in time for planning summer programs comes Dana's Best Jump & Jam Tunes. This high octane album is filled with songs that would be perfect during library storytimes, summer camp dance breaks or just getting the wiggles out at home. Dana Cohenour's 20+ years of experience working with children is evident in the way that she crafts each song to engage children from beginning to end. The opening track, "Jump and Jive" is perfect to get kids up and moving while songs like "Jumping Beans," a fun freeze dance will keep the kids (and you!) jumping to the beat for almost three full minutes. The only song not written by Dana is the traditional, "Five Green and Speckled Frogs" which in this case is set to a rousing bluegrass beat. Also included are the story song "Fish Tale" and the beautiful closing track, "I Love Mommy" which sends love to all members of a child's family circle.
There are several songs from this album that would be great additions to storytimes. My favorites are, "Follow the Leader" which gets kids moving like a wide variety of animals, and "Legs," a funky tune that has kids counting the legs and moving like a different group of animals than are found in the previous song. (With a running time of 4:10 min. you might at first worry that this is too long for storytime, but never fear, it keeps kids very engaged and waiting to find out what the next animal is going to be.) Also on the album is a new shaker song, "Shakin' Things Up." It has a moderate tempo which helps children follow the instructions, and works to get much of the body moving. Finally, there is "Wiggle Workout." This may be a bit much for storytime, but could work well in a home or exercise/movement class setting. Take a look below.
Dana's Jump & Jam Tunes is an excellent resource for librarians and teachers and would make a great addition to circulating children's music collections.