I love books. I love music. And I really love books and music when they are joined together. Here are a few newer items that will definitely make you smile.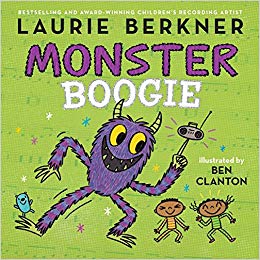 Laurie Berkner's latest picture book adaptation is for her song, "Monster Boogie." The song lyrics encouraging children to be the monster and have fun dancing and wiggling are perfectly paired with illustrations by Ben Clanton, who also illustrated Laurie's last picture book We Are the Dinosaurs. In his lively illustrations, Clanton finds just the right balance between scary and fun that children will enjoy. Monster Boogie is a complete story that can be read all on its own or paired with the song. *A very clever book design allows for the sheet music to be included on the back cover of the book under the book jacket.
If you're not familiar with The Secret Mountain, a publisher based out of Montreal, who specializes in original picture books that are accompanied by full-length music CDs, then you are in for a real treat. A wide variety of authors, illustrators, and musicians from all around the world contribute to this series of books. Their latest offering, The Hummingbird Sings and Dances, which is scheduled to be released next month, is completely comprised of lullabies and nursery rhymes from throughout Latin America. Each of the 19 Spanish language songs is given a two page spread that includes beautiful artwork from illustrator Mariana Ruiz Johnson, a note about which country the song comes from, and the lyrics to one of the song's stanzas in both Spanish and English. The accompanying CD contains all 19 songs performed by the talented Mexico City-based Grupo Cantaro. The full lyrics for all of the songs, in both Spanish and English, are included at the end of the book. Hummingbird Sings and Dances would easily fit into bilingual storytimes and lessons about other cultures.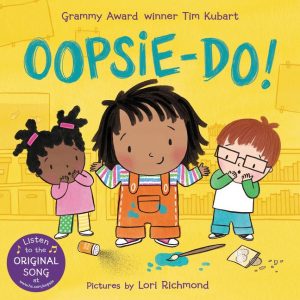 GRAMMY Award winner Tim Kubart released his first picture book in May. Oopsie-Do! is a delightful story about a young girl who rather than fretting when things go wrong proclaims, "Oopsie-Do!" and with the help of her friends and the grown-ups in her life work to make the things going wrong, go right. Lori Richmond's charming illustrations include a diverse cast of characters that embody all of the ups and downs that the children go through in a day. This is a great storytime book as well as a good title to share one-on-one. Pair this with Tim's adorable full-length video for the song version of Oopsie-Do!
While each of these titles is completely different, they would all be right at home in any collection.