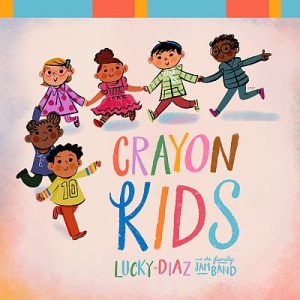 Crayon Kids, is exactly the kind of album we've come to expect from Lucky Diaz and the Family Jam Band – a party for the whole family.   Led by super duo Diaz and his wife Alisha Gaddis, each of the nine tunes has its own unique melody, story, and sound while the energy and high production level provide the album with cohesiveness. There is a richness to the collection with a blend of songs like the title track "Crayon Kids" and "Dedos" that feature things like electric guitars, drums, and saxophone while "Letter C" has a retro 70s vibe with electric keyboard taking center stage and "Sábado" which adds a ska beat to the mix. Add in the slower, stripped down feel of "Another Day" and the dulcet tones of the closing track "Better Together," featuring Frances England, and you'll find that there is a little something for everyone. Crayon Kids is a true reflection of how kids are currently moving through life, facing all the challenges that are thrown at them today yet always looking forward to tomorrow. Pick up Crayon Kids and get ready to dance your way through the summer.
Earlier this month Lucky released his first picture book, Paletero Man. Like the song, the book puts the reader in the Eighth Street neighborhood of Los Angeles from which Diaz drew his inspiration. Illustrations by Micah Player perfectly pair with the text giving readers the sense of urgency and joy a child experiences when looking for their favorite summer treat. During these dogs days of summer, after reading Paletero Man, you'll be wishing for an ice cold paleta to enjoy with your neighborhood friends. Lucky Diaz kindly took the time to answer a few questions about this new venture.
1. You have a fairly deep catalog as a family music artist. How did you decide that Paletero Man was the right song for your first picture book?
Like many of my songs, the inspiration for my book Paletero Man actually came from my family's real life experiences. My daughter Indy and I traversed to visit the paletero at our local park in Koreatown, Los Angeles, almost daily. On one occasion, she was enjoying her paleta on a hot day and she accidentally dropped it. Seeing this disaster the paletero quickly came to rescue with a fresh paleta, no questions asked. The unsung heroes of our community are really what my story is about.
2. The words and illustrations go together perfectly.  Was this a collaborative process? 
Thank you! Yes! Micah Player and I have a friendship of well over a decade. We seem to finish each other's sentences so often! There's a natural sense of collaboration in our friendship that spills over to our creative work. We're always riffing on ideas. I will say that Micah really took the lead on his illustrations of Paletero Man. I see Micah telling his own LA love story in the pages of Paletero Man. It's very special
3. Are there more picture books in your future? If so, will they be based on one of your family songs or be a brand new story?
¡Claro que sí! I'm already working on several other picture books. Like Paletero Man, they're based on their own original narratives and stories. I'm happy to keep my songs separated from the creative process of writing children's books. I'm having a fun time exploring this new medium of art for children and families.