Mundo Verde/Green World performed by Mister G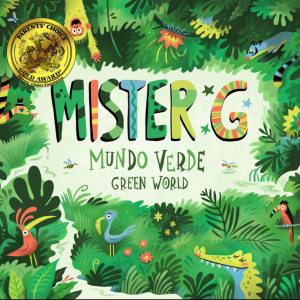 Mister G won the 2015 Best Children's Album Latin GRAMMY for Los Animales and his latest album Mundo Verde/Green World should land him on the short list of nominees once again. From the first notes of the title track to the last dulcet tones of this almost 30-minute journey, the over-arching theme of protecting all the wonders of our Earth is lovingly explored.
The first few songs of the album are filled with fast-paced Latin beats that will get listeners up and dancing while also talking about important issues such as the water that our planet is made of, recycling and the wide variety of animals who deserve our protection and concern. The music – featuring such performers as Brazilian percussionist Mauro Refosco, Peruvian bassist Oscar Stagnaro, Brazilian vocalist Mari Nobre and Cuban vocalist Estrella Acosta – goes full tilt with songs such as "Patas en el Aire/Paws in the Air" and "El Coqui/The Frog," then strikes a quieter note with songs like "Cuantos Peces/How Many Fish," the Carlos Santana inspired "Si Se Puede/Yes We Can," and the lush instrumentation and vocals of "Las Estrellas."
Mundo Verde/Green World is a bilingual album from start to finish. Mister G and his many guests seamlessly transition between Spanish and English both during the interludes between the songs as well as within the songs themselves. Enough of each language is spoken or sung so that no matter the native tongue of the listeners, they will still get the gist of the lyrics and enjoy each tune. This album could easily be used in the classroom, in storytimes or for family listening. Pure joy from beginning to end!
Take a peek below…