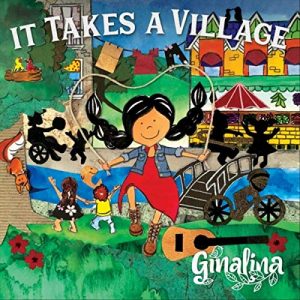 Vancouver-based Ginalina's latest album for families is a delightful, up-tempo celebration of love. Beginning with the opening track, "Welcome to the Neighbourhood," It Take a Village draws listeners in by emphasizing the importance of community and opening our hearts and embracing one another. This theme continues in the title track, "It Takes a Village" all the way through the final song on the album, the beautiful, "Goodnight Lullaby." In between are songs that let children know that change doesn't have to be scary, that they can be anything that want when they grow up, and that doing things together is better than doing them alone.
Ginalina continues her tradition of writing songs that honor nature with tunes about the winter weather, the arrival of spring, and the life cycle of bunnies. Also included on the album is the French tune, "Dans la Rivière (tous Connectés) and the multi-lingual song "Apple Apple Seed" which is performed in English, French and Chinese. Ginalina's folk-pop sound is accentuated by uplifting melodies and lyrics that encourage audience participation. "It Takes a Village" is a true delight.
UPDATE: It was announced today that It Takes a Village is nominated for the 2019 Juno (Canada's Music Award) for Best Children's Album.