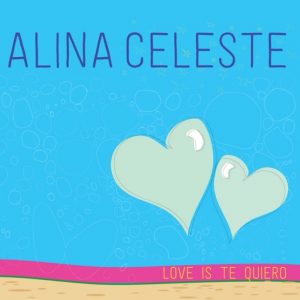 I just listened to this album three times in a row while I tried to figure out how I wanted to describe it. Did I want to start by saying this album is light and airy? Or maybe filled with infectious melodies? How about a showcase for Alina's lovely soprano? After several stops and starts, I think the best way to start is by saying, Love Is Te Quiero  is all of these things, but most importantly, it is music to make you smile. From the opening notes of "Love Is" through the closing chords of "Los Pollitos," listeners will feel their spirits lift while their and minds and bodies fill with joy.  
 Alina Celeste's Cuban-American upbringing is evident throughout the entire album as she deftly weaves bluegrass, Caribbean, and Latin American sounds together to create a delightful tapestry of songs. The eleven tracks are artfully arranged to smoothly flow back and forth between those performed in English and those in Spanish. Featuring repeated lyrics set to catchy tunes, every song invites listeners to join in no matter their native language. Standouts include the 1943 Spanish children's song "Vaca Lechera" and "Baila Conmigo." If you are looking for storytime songs, try "Coquinas" which will have children counting to ten in Spanish, while "Clap Your Hands" will get children up and moving. (The words mama and papa in this song can easily be changed to suit your audience.)
Love Is Te Quiero will find a home with families and storytime presenters alike. For a taste of Alina Celeste's style of music, take a peek at her vast catalog of videos on YouTube.