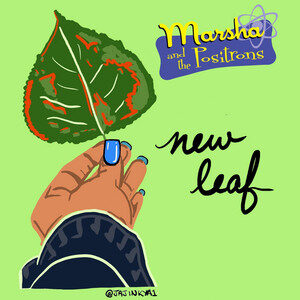 I first heard "New Leaf," the latest single from Marsha and the Positrons at the beginning of December. Right away I knew I wanted to save it for the week between Christmas and the New Year because 1) I didn't want it to get lost in the riches of the holiday music shuffle and 2) it really spoke to me about looking ahead to 2023. For the last two years at the end of December I've said, "next year has to be better," and both years had an unexpected amount of challenges. By the end of November I declared that this time I wasn't going to say, "next year has to be better." In fact I wasn't going to really acknowledge that a new year was starting at all. And then I listened to "New Leaf."
In less than two minutes, Marsha and the Positrons filled my heart with such light and hopefulness that I started to cry. Normally I'm not that weepy, but after a tiring, trying year, hearing the words, "I'm turning over a new leaf…I'm starting fresh, it's going to be fine," just touched something deep within me. In "New Leaf," Marsha Goodman-Wood's gorgeous, rich vocals lead the listener's gaze to the future while beautiful harmonies and simple instrumentation enhance the truly lovely lyrics. Never melancholy, "New Leaf" uplifts the listener leaving them feeling loved.
As a side note, while the phrase "turning over a new leaf" nowadays has more of a tree-related connotation, when it was first used back in the 1500s, it referred to turning the page (back then known as a leaf) in a book to a blank leaf so that you could start anew. As a book lover, the origin of the phrase really appeals to me, but as a nature lover I also enjoy thinking of a tree full of leaves. If the first one doesn't have exactly what you're looking for, try a new leaf, "it's going to be fine."
Please take a few moments and enjoy "New Leaf" by Marsha and the Positrons.