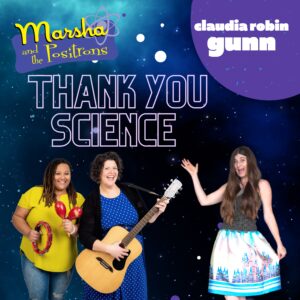 Happy International Women and Girls in Science Day!! As a child, I loved science – especially the wonders of things that couldn't be seen with the naked eye. My parents were very supportive of my interests and bought me a beginner's microscope one year for Christmas and a telescope the next. While my drive to officially study science waned, my interest never did. In college (as a French and International Relations major), when forced with taking a science course with a lab, I chose astronomy. I loved those chilly fall nights up on the hill gazing out into the galaxy and to this day, I still own that child's telescope, carefully packed in its original box from JCPenney's. These memories from my younger years are just a few of the reasons why I love the new single "Thank You Science."
Born of the creative minds of Marsha Goodman-Wood of Marsha and the Positrons and Claudia Robin Gunn, "Thank You Science" is a beautiful song full of gratitude and celebration. Chock-full of information, in the span of a few short minutes, Marsha and Claudia manage to include basic facts like the Earth is round, call out things such as the Scientific Method, and shout out to a whole host of famous female scientists. Even though the subject matter of "Thank You Science" has an educational element to it, the poppy melody is uplifting and fun. Marsha and Claudia are joined on vocals by Positron member Ayanna Gallant and when the three voices join together in harmony, the effect is a real delight.
In December of 2021 School Library Journal published a piece I had written about the evolution of children's music as a result of the pandemic. In that article Claudia spoke about how the virtual realm of the pandemic had expanded the world for children's musicians and was leading to collaborations with artists they may never have connected with otherwise. "Thank You Science" is an example of one of those collaborations. Marsha is based in the Washington, D.C. area while Claudia lives a bit of a ways away in New Zealand. Through the wonders of Zoom, they were able to combine their interests in the scientific world and love of music to work together and write "Thank You Science."
"Thank You Science" is available today on your favorite streaming services.