Album Cover Art & New Single – Finding Friends Far from Home: A Journey with Clara Net
I've always loved pictures that tell a story, and that is exactly what the cover art for Oran Etkin's album Finding Friends Far from Home: A Journey with Clara Net does. Etkin is the founder of the Timbalooloo Method for learning music in which each instrument comes to life, adding character, humor and emotion to music. This album cover captures that methodology by depicting several instruments from around the world as characters who are sharing with one another and building a friendship.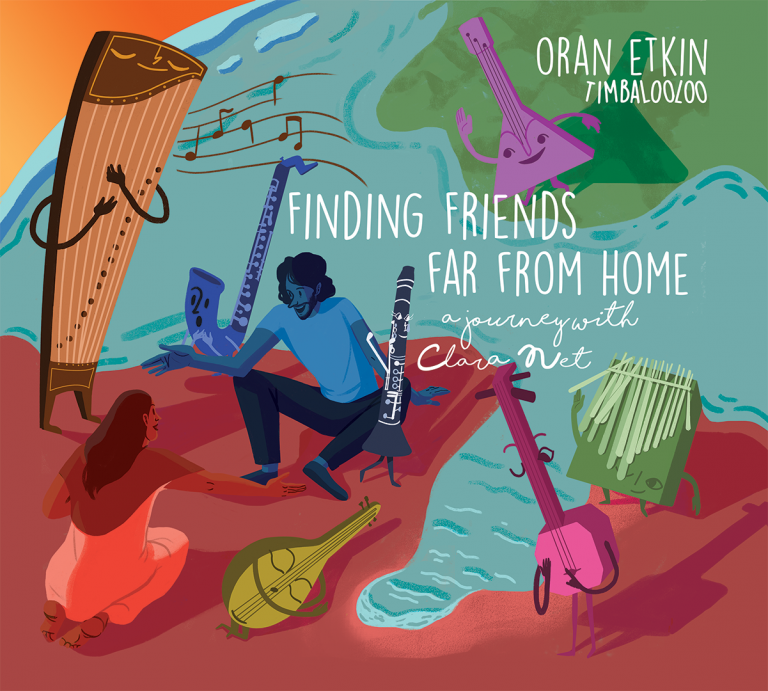 This beautiful cover art was created by Mexican artist Lynda M. Tovar. In working on the project, Tovar says
"While listening to the album and doing the sketches and different explorations of the characters I got to know Clara, her brother, the Bass Clarinet, little Mbira and the rest of the characters. As they were presented to me through the music, the designs of the characters grew in me like they were present. I could listen to them while creating them and that helped me while creating their images and personalities.
While working on it, it also brought a certain feeling of nostalgia. I thought of my childhood and how when I was little I listened to an album with my parents, everyone humming, whistling or singing to it with a very different perspective, and me, as I imagine the children could also do with this album, looking at the cover of it and getting every detail of the characters and imagining all the scenarios the songs tell. It made me smile every time I thought of this and how the kids would be able to do that with this cover."
Finding Friends Far from Home
was a project several years in the making. Etkin, a clarinetist, traveled the world, recording the songs on this album with artists from the countries that he visited. One of the tracks, "Tumbalalaika," is a riddle-filled tune featuring the balalaika – a triangular, three-stringed Russian instrument. Take a listen
here
.
Finding Friends Far from Home
will be released on August 30.