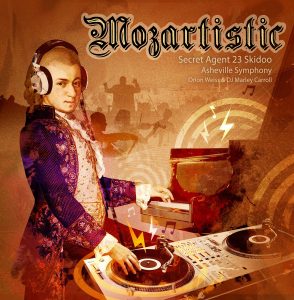 How do you make classical music cool? Or, is it cool already? I think it's all a matter of perspective. Way back when I was in fifth grade, I thought playing in the orchestra was going to be cool. I was lured in to playing the cello by a high schooler who played "The Pink Panther Theme Song" on his. From the first note of that iconic tune, I knew the cello was the instrument for me.
One thing they failed to tell little fifth grade me however, was that the cello very rarely plays the melody. In fact, when we finally played "The Pink Panther Theme Song" in eighth grade, it was the violins, not the cellos who got to play that most famous tune. Not cool. But, that was ok because I had grown to love the cello and orchestra really suited me. I was a quiet, shy, child so it was a perfect fit. If you wanted to have fun, join the marching band. If you wanted to be "cool" play the trumpet or join the drum line. If you wanted to be a serious musician, play in the orchestra. Sure they tried to make the music "fun" by having us play orchestra arrangements of pop songs, but in the end we were still a bunch of sedate girls in long black skirts and geeky boys in bow ties playing a screechy arrangement of a Peter Cetera song. Cool? I don't think so.
Luckily, over the years classical music has undergone an image makeover as musicians like violinist Vanessa Mae in the 90's and more recently pianist Lang Lang and the 2Cellos have built images and fan bases that used to be reserved for rock stars. They dress cool, look cool and rock out on their instruments in ways rarely seen before. And the result is awesome. But while their music can definitely be listened to by kids, how can it compete with the Top 40 music they listen to on the phone and watch on YouTube?
That's where GRAMMY-winner Secret Agent 23 Skidoo comes in. This year, as part of the Asheville Amadeus Festival, hip-hop artist Skidoo joined with the Asheville Symphony, under the direction of conductor Daniel Meyer, to create "Mozartistic." This totally unique composition includes an arrangement of some of Mozart's most famous pieces, melded with Skidoo's original hip-hop stylings, to tell the story of young Mozart while also encouraging kids to pursue their dreams, to be "Mozartistic." The end result is an amazing performance by the Asheville Symphony featuring Secret Agent 23 Skidoo with guest appearances by pianist Orion Weiss and DJ Marley Carroll. Now when I wonder, is classical music cool? The answer is, "Absolutely!" After listening to this piece over a dozen times,the fifth grade cellist inside of me is still yelling, "I am the Mozartistic!" Take a listen and you will be too!