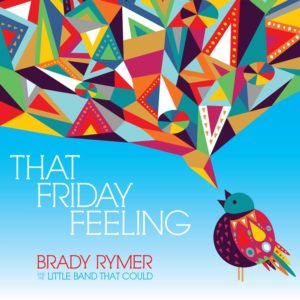 Family music artist Brady Rymer and his fellow performers in the Little Band That Could put the "rock" in kindie rock. From the very beginning of their children's music career, the group never shied away from featuring electric guitars, keyboards, and drums to create a musical sound that kids and their parents alike would enjoy. With That Friday Feeling, the band's 12th studio album, that rock and roll tradition continues.
From the first note of the title track to the last beat of the final song, listeners are treated to Rymer's rockin' signature melodies combined with lyrics that not only entertain, but emphasize the importance of living lives filled with joy, hope, and kindness. The eleven original songs include ideas for how to cheer someone up, an appreciation for the adorable animal babies of summer, the soft jam that follows the bunny tracks through the snow, and answers to that age-old-question, "If you had a super power, what would it be?" Also included is the beautiful tune, "Outline," which says that we are simply outlines that are being filled with precious attributes like light and love which are represented by different colors of the rainbow and the upbeat "Gonna Sleep Well Tonight" whose goal it is to get kids moving and dancing and ready to fall into bed. The only cover on That Friday Feeling is "Yes We Can Can," a funk song about helping one another out that was written by Allen Toussaint and made popular by the Pointer Sisters. Rymer and the Little Band That Could dig right in and give a performance that would make them all proud.
Even in its quieter moments, That Friday Feeling is filled with a joyful celebration of things in life both big and small. Listeners will quickly find themselves bopping their heads and singing along. That Friday Feeling is available this Friday, June 17.