As I mentioned in my last post, October is one of the favorite times of the year at my house. One of the reasons for that is that our wedding anniversary is on October 31. We chose that date specifically because it was Halloween (and it was a Saturday). Guests wore costumes, there was a jack o' lantern on the top of the cake and the reception was decorated with giant tombstones. While the wedding and reception celebrated a more modern version of Halloween, the invitations and the rest of the graphics all featured classic Halloween images like the one to the left. As soon as I started watching the video below, it immediately reminded me of those images and transported me to a different time.
EVT Kids is making a name for themselves on the children's music scene. Yvette and Tom lead this bilingual family band with their two daughters joining in the fun. The video for their latest song, "Spooky Halloween Night," features gray and black illustrations reminiscent of Halloween artwork from several different time periods. The vocals harken back to a bygone era that brings eerie jazz elements to the song making the tone just spooky enough to enjoy but not too scary to listen to. Make sure to watch all the way to the end so that you don't miss a surprise rap that somehow fits right in. The melody to "Spooky Halloween Night" will haunt you (in a good way!) for days to come.
Before you celebrate your own spooky Halloween night, make sure to take a listen to the new Halloween EP Little, Wild and Spooky! from New Zealand children's artist Claudia Robin Gunn. This three song collection includes "Spooktacular!" a clever counting song that includes suggestions for different types of vegetables that you can carve, "Leaf Skeletons" that imagines what would happen if the skeleton leaves at the bottom of the pile started dancing, and "Friendly Monsters" that celebrates dressing up, costume parties, and imaginary friends.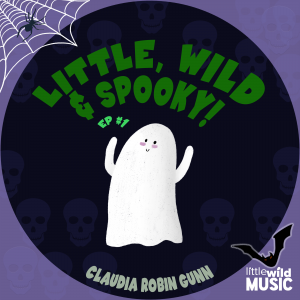 Little, Wild and Spooky! is available on most streaming services and can be previewed on Claudia's Bandcamp page.
That's it for the Halloween editions of Kids Rhythm and Rock! I hope you have a thrilling All Hallows' Eve filled with all the tricks and treats you dream of!