October Celebrations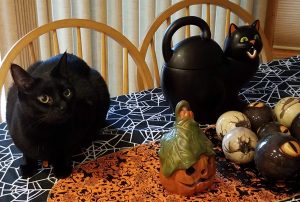 Oh, it's so good to be back! After an unexpected hiatus, it feels great to once again be surrounded by the talent, generosity, and kindness of the children's music world. And what better time of the year to return than during the magical, mystical, pumpkin-spiced delight that is October. So much incredible children's music debuted while I was gone, and we'll get to that in the coming weeks, but for today, I want to celebrate the season that in my house is "the most wonderful time of the year" by featuring new videos that shine a spotlight on two upcoming holidays.
The first video is "Halloween Crew" from Little Miss Ann. The muted, almost sepia tones, of the animation perfectly match the slightly spooky lyrics which appear on the screen. Children will love singing along while pretending to be different members of the Halloween Crew.
The second video is for a Spanish language song from Colombian-born, Los Angeles-based Nathalia, that celebrates Día de los Muertos. Beautiful, brightly colored animation highlights all of the elements that go into honoring the lives of loved ones who have come and gone. Lyrics are available in both Spanish and English on Nathalia's website.