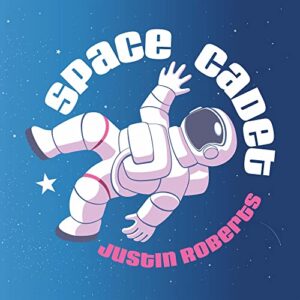 Welcome to the fifth and final spotlight on this year's GRAMMY nominees for Best Children's Music Album. Today we're shining a light on Justin Roberts. No stranger to children's music, Space Cadet marks Justin's 16th album for families and fifth GRAMMY nomination. As with his previous collections, Justin perfectly captures the voice of young children creating fully developed characters in each song that empower listeners to embrace their differences, feel their feelings, and love one another. Now that he's a father to his own little one, there is an even deeper feeling of understanding and empathy to Justin's music that makes this album stand out from his discography. Kids Rhythm and Rock caught up with Justin shortly after the GRAMMY nominations were announced.
This is your fifth GRAMMY nomination. Is there anything that makes this nomination special?
Absolutely! I'm so thrilled and moved to be nominated this year. Having made 16 albums over the past 25 years, there is no greater honor than knowing that my peers think highly of the creative work I'm doing. It's always scary to put out a new album when you know it will be judged against your entire catalog and I try to make sure I'm pushing myself creatively with every new project. After making a very personal and quiet album a few years ago (wild life), it was amazing to return to the studio with the Not Ready for Naptime Players and make a big rock record and then get this kind of recognition.

Not only did you release a new album in 2022, your latest picture book, I'll Be Your Polar Bear was also published. How is Justin the musician different from Justin the author?
Making books is a totally different process than making albums. Not only is there an incredible back and forth between me and the book's editor but there is a really fun collaborative process with the illustrator. You never know what story or stories they are going to tell with their art and getting back sketches and final pieces is just so moving when you see how it interacts with the text you've written. I'm thrilled with with way I'll Be Your Polar Bear turned out.
What's next for you?
I'm currently co-writing songs with R&B/Soul singer Meagan McNeal for an upcoming kids record that she is working on. I met Meagan when we collaborated on a
video series
for the Chicago Symphony Orchestra last year and then did a live performance with members of the CSO at Symphony Hall in November. I loved Meagan's voice so much I asked her to sing on a few songs on
Space Cadet
("When February Comes" and the skat singing at the end of "I have Been a Unicorn") and then we started co-writing for her project. It's been amazing getting to know her and I'm just a huge fan.
Is there anything else that you would like to share?
I have another picture book coming out from Penguin in the spring called
Giant Sized Butterflies on Your First Day of School
illustrated by the incredible Columbian Illustrator Paolo Escobar. It's based on a song of mine about a first day of school called "
Giant Sized Butterflies
" from
Pop Fly
. I absolutely adore the illustrations and am really excited for folks to see this one. I get a lot of notes about that song serving as a yearly ritual for families starting school and I'm hoping this book will also serve that purpose.
I'm also working on new songs for my follow up to Space Cadet and looking forward to more touring in 2023 with the Not Ready for Naptime Players.
In case you missed them, check out the spotlights for fellow nominees Wendy & DB, Divinity Roxx, Alphabet Rockers, and Lucky Diaz and the Family Jam Band.
Watch the GRAMMY's Premiere Ceremony LIVE on Sunday, February 5 at 12:30 PM PT/3:30 PM ET on live.grammy.com or The Recording Academy YouTube channel to see who wins Best Children's Music Album.