Jukebox performed by Street Corner Symphony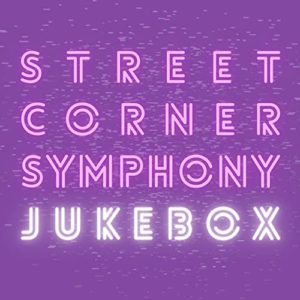 For the last decade, I worked in a community where the majority of families had at least four children, which meant at any given time they were struggling to find music that would appeal to a range of ages and musical tastes. Often the solution to this dilemma was musical or movie soundtracks. Now there's a new option – Street Corner Symphony. What began in 2010 as an a capella group created to compete on the second season of NBC's The Sing Off (they were the runners up) has developed over the years into a deeply talented quintet who recently released Jukebox, their first album of family music,
From the first note to the last, this collection entertains while lifting the spirits. The title song is signature Street Corner Symphony, capturing that doo-wop sound and pairing it with clever lyrics with a child inquiring, "hey daddy, what is a jukebox?" followed by asking about a boom box, and finally an iPod. This track along with "Ode 2 Phone" which is a fantastic 90s power ballad about losing phone privileges (and the fear of losing everything on the phone during that down time) will have great tween and parent appeal. Street Corner Symphony keeps things moving with a version of "Atomic Dog" that would make George Clinton proud, and a groovy beach party tune all about "Swimming." And move over "Cha Cha Slide" – there's a new dance in town that's going to get everybody moving and it's called the "Street Corner Shuffle!"
Jukebox isn't just good for getting you moving. As the band said, "We wanted to write about simple truths on this album. Being able to express yourself is such an important practice for the whole spectrum of life so we wanted to encourage expressing love and gratitude." And that is exactly what they have done. From the second track which gleefully encourages children to "Be Brave" when confronting big and little things in life to the techno-esque "Kindness is Timeless" and the good advice in "Attitude of Gratitude," that message comes through loud and clear. And nowhere is that love more evident than on "You Make Me Love," a beautiful duet between father and son Maurice and Matthew Staple, whose love for one another and those around them can be felt in every single word.
Jukebox is a real triumph. Welcome to family music, Street Corner Symphony! We're glad you're here.