I Am Kind Performed by Lindsay Munroe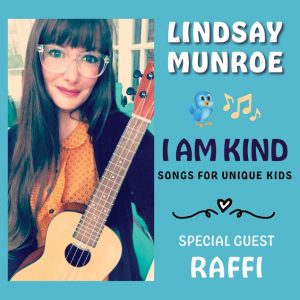 Lindsay Munroe's debut album I Am Kind: Songs for Unique Kids is filled from beginning to end with tracks that will soothe and delight young listeners. Munroe, a mother of three children with autism, writes songs that all children can relate to, but that include a deeper meaning for families with neurodiverse kids. Her original songs include "Waiting Nicely," "Ask for Help," "OK to Make Mistakes," and "Everyone of Us Belongs" which emphasizes that we are all different (some of us flap, some of us rock, some of us use a tablet to talk) but we all have something to give. 
I Am Kind also includes familiar songs such as "This Little Light," "Little Red Caboose," and "Frère Jacques" as well as folk songs like "Peace Like a River" and "Bluebird, Bluebird." The album also features a very special guest – Raffi! Not only does Raffi perform on many of the songs on the album – including "The More We Get Together" and "De Colores" – but his record label, Troubadour Music released I Am Kind, making it the first Troubadour album in decades featuring an artist other than Raffi. With its themes of encouragement and acceptance, I Am Kind fits perfectly with the Raffi Foundation's Child Honouring principles of love, diversity and caring community. Munroe and Raffi's voices blend beautifully while minimal instrumentation gives the lyrics room to be heard and processed.
I Am Kind: Songs for Unique Kids is available digitally now and will be released as a CD on June 12. Below is the video for the gentle title track, "I Am Kind," a song filled with reminders that all of us need to hear sometimes.