Welcome to the second installment of a series of posts putting the spotlight on the nominees for the 2023 GRAMMY award for Best Children's Music Album. Today we are shining a light on Divinity Roxx and her first album for children, Ready, Set, Go! Divinity is an extraordinary bassist, composer, and performer. On Ready, Set, Go!, she created a collection of songs that empower children to embrace who they are and to joyfully live and love everyone, everyday. Divinity's driving beats grab you from the first notes of the title track and keep you moving and singing along from beginning to end. Divinity took some time out from her tour to share more about herself and Ready, Set, Go! with Kids Rhythm and Rock.
You have an incredible career entertaining adult audiences. What led you to create music for children?
I've always wanted to create music and books for children. In fact, I wrote my first children's song early in my career (2003 I believe). The song was called "I Can Be Anything" and featured my 5-year-old cousin TJ and 8-year-old Goddaughter Alaysia rapping alongside me. They are now well into their 30's. The company I was working with, Mee Wee, was an offshoot of the hip-hop label Rawkus. They ended up closing their doors, unfortunately, but the album is still on streaming services. I turned my attention back to recording and performing alternative hip-hop, progressive r&b, and soul music, and then ended up touring with the great Victor Wooten and eventually the incomparable Beyoncé. I always thought I'd eventually write for children again. During the pandemic, a peculiar series of circumstances led me to writing music for Scholastic. That evolved into two full picture books featuring my songs Happy and Healthy and Me+You, (available on Amazon), and that turned into a GRAMMY-nominated album, Ready Set Go!
Of all the nominees, you are the newest to the genre. What does it mean to you to receive a GRAMMY nomination for your first children's music album?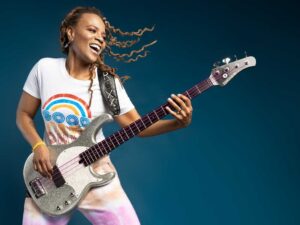 The community of children's music artists is a very special one and the entire community has embraced me and supported my music and message from day one. To be nominated for a GRAMMY on the first release is an honor and to be nominated for this album, in particular, is very special for me because out of all the records I've ever made, I am the proudest of this one for so many reasons. This record allowed me to return to why I started making music in the first place, to inspire people. I recorded it mostly in my home studio, sharing files over the internet with some of my favorite musicians who happen to be my friends, and with my wife who was locked in the house with me during the pandemic. This record brought us so much joy to create. We sang and laughed and jammed in my little home studio and created this music that has been impactful for so many in unimaginable ways.
You are incredibly busy. What are some of the things you have coming up in 2023?
When you're an independent artist and musician you have to stay busy so 2023 is a year filled with lots of projects near and dear to me. I'm working on a one-woman show called 'Starchild-The Ballad of Debbie Walker' which premiers at Cross Roads Theater in New Brunswick, NJ from May 27-June 4. I am planning to release a new EP for the play as well as a new children's music album in the fall. I co-composed music with a good friend of mine, Eugene Russell IV, for a children's play, The Boy Who Kissed The Sky written by Idris Goodwin which will premiere at The Alliance Theater in Atlanta (my hometown) from April 1-16.
If there is anything you would like to share?
I have some live performances coming up that I'd like to share. I'll be playing at The Kimmel Cultural Campus in Philadelphia on Saturday, February 25, and The Weis Center for The Performing Arts at Bucknell University in Lewisburg, PA on March 11.
Please check out my websites, www.divinityroxx.com and www.diviroxxkids.com, and sign up for my email list to stay up-to-date on shows and performances that may be in your area. Also, give me a follow on IG @diviroxx/@diviroxxkids as well as YOUTUBE to watch the latest videos and bass lessons.
In case you missed it, check out the Spotlight for fellow GRAMMY nominees Wendy & DB.