Sing Through the Year performed by Claudia Robin Gunn
I have to admit, when I think of children's music, I don't often (ok, never) think of New Zealand as a place to turn to for amazing performers. Well, that stops now. New Zealand has a beautiful treasure in children's music artist Claudia Robin Gunn. Her latest album, Sing Through the Year – A Little Wild Childhood, was funded by a Creative NZ 2020 Continuity Grant and is packed with 25 songs that celebrate the seasons, nature, and life in general. Inspired by bright moments and experiences with her children, each track is filled with musical storytelling that just makes my soul happy. Gunn's indie folk/pop sound is often reminiscent of the Indigo Girls, especially when the uplifting harmonies are given center stage, while still managing to have a modern element that will appeal to all listeners.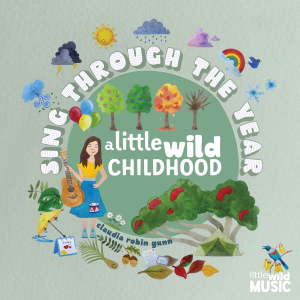 Sing Through the Year – the album, is wonderful on its own, but for the full experience, I highly recommend the Sing Through the Year – a Little Wild Childhood Songbook, which is available to American audiences as an ebook. In the songbook, Gunn gives an introduction to each song while Auckland artist Elise De Silva provides charming paintings for each of the tunes. Also included are the lyrics and music/chords for each song as well as a QR code for easy streaming of individual tracks. Whether you choose the album or the entire songbook, Sing Through the Year is just the light summery treat (even when the topic is snowflakes!) that you need.
Claudia, along with many other children's musicians, will be performing on Saturday, June 5 as part of the SwitchOn Global Telethon to benefit endangered species around the world as part of World Environment Day 2021.