Coming Juneteenth – All One Tribe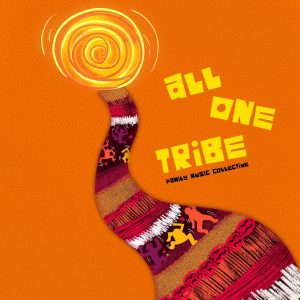 I don't have the adequate words to describe All One Tribe, but I'm still going to try. This album, this incredible collection of music, is brimming with life and love. After a year when Black artists were shut out of the GRAMMY nominations and nationwide protests were held following the killings of George Floyd and Breonna Taylor, the road to All One Tribe began when co-producers Shawana "Shine" Kemp, Amelia Robinson, and Aaron Nigel Smith gathered together a group of 24 Black family music artists from across the country to create the 1 Tribe Collective.
The goal of the project is to expand public awareness of these diverse children's songwriters, and to remind the world that Black families do not represent a monolith. The 1 Tribe Collective hopes to give young people and families permission to live out loud and celebrate their uniqueness. The performers on All One Tribe, the first ever Black collective family music album, represent a broad spectrum of musical genres and the 25 songs that are included cover a wide range of topics with the tracks so skillfully laid out that the almost 90-minute running time seems to go by in a flash. Normally I would highlight a song or two at this point, but there aren't any lowlights on this tour de force. There is something for everyone here – whether you're looking for a song to dance around the house to, or something more lullaby like to soothe the soul. The true beauty of the album lies in the song selections and the celebration of the Black experience in a way that is accessible to families and children of all ages.
I want to end with the list of tracks from the album. That's not something I would usually do, but in this case, I think this list of performers and songs perfectly reflects the depth and richness of All One Tribe. Oh, just one more thing – don't forget All One Tribe comes out on Juneteenth, June 19.
All One Tribe Track List
1. Various Artists | One Tribe 3:47
2. Alphabet Rockers | Shine (Melanin Remix) 4:15
3. Fyütch| Family Reunion (feat. Divinity Roxx) 3:27
4. Ms. Niki | Rainbow 3:24
5. Rissi Palmer | Little Black Boy, Little Black Girl (feat. Bryan Owens) 3:22
6. SaulPaul | Motivation (International Remix) 3:19
7. The Magic Jones | Clap Your Hands 2:22
8. Uncle Jumbo | GO 100 2:59
9. Shine & The Moonbeams | I Believe 3:13
10. Roy Moye III | Black Lives Made STEM History 3:14
11. Kymberly Stewart | Beautiful Brown Babies 3:09
12. Pierce Freelon | Cootie Shot (feat. Divinity Roxx) 2:28
13. Culture Queen | I Am the Future of Black History 2:46
14. Melanie DeMore | We All Live 1:50
15. Nanny Nikki | Playground Day 3:52
16. Aaron Nigel Smith | March Together (feat Shine & the Moonbeams) 2:39
17. Robbi K | Set It Free 6:00
18. Uncle Devin | A DC Fun Day 3:25
19. DJ WILLY WOW! | Nothing Wrong with the Black Crayon 3:00
20. The Wise Channel | For All 2:54
21. Jessica DeShong | Black People Who Change the World 5:16
22. Groovy Nate | Respect Everybody 4:22
23. Ms. Janis | Say Their Names 5:12
24. Jabali Afrika | Mtoto Mzuri (feat. Ahadi) 3:56
25. SNOOKNUK | We're All the Same 3:05