Premier – Frances England's "Not Just My Sister"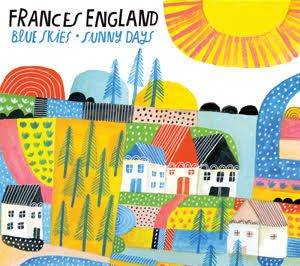 Frances England is back! It's been two years since England released her GRAMMY nominated album Explorer of the World and clearly that two years was time well spent. With her new album, Blue Skies and Sunny Days, England presents a collection of songs that are breezy and light while conveying a message of positivity and love.
This collection includes seven original songs with themes ranging from road tripping to that feeling you get when you know it's going to be a good day. The album also includes a cover of the Cat Stevens classic "If You Want to Sing Out." Several of the songs will really strike a chord with parents such as "Mama Said" about the encouraging words that Mama shares with her child and "Watching You Grow."
While all of the songs on Blue Skies and Sunny Days are lovely to listen to, it was "Not Just My Sister" that truly touched my heart. England is a talented songwriter who has the ability to set impactful lyrics to a gentle, upbeat melody that really draws listeners in, and that is exactly what she has done here. My little sister has always meant the world to me, and listening to this song as we get ready for her September wedding just brings out all the best kind of emotions.  There is so much that I relate to in "Not Just My Sister," but when it comes to the place my sister holds in my heart, the chorus really says it all, "She's not just my sister, she's my best friend, she's my mirror, she's the one who knows me inside and out."
Listen to "Not Just My Sister" in its entirety below. Blue Skies and Sunny Days will be out on August 14.