All the Sounds Performed by Lucy Kalantari & the Jazz Cats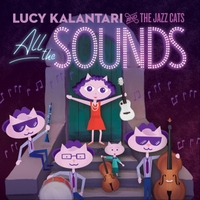 My introduction to Lucy Kalantari's special brand of family jazz music was her fall 2017 holiday EP It's the Holidays! and I'm so glad that she's back with this full length album.  This jazz age inspired collection of ten original songs is a real delight. Each song has its own unique identity filled with complex melodies and engaging lyrics, yet they all fit together to make a beautiful whole.
Once again Kalantari is backed by the highly talented Jazz Cats who really get to shine on numbers like "Ain't No Dog Like Mister," a tribute to Billie Holiday's dog Mister which allows for some great clarinet solos as well as the tango accented "Howl to the Moon" which opens with a gorgeous cello solo that leads to vocals backed by a swaying bass beat as it tells the story of a werewolf who longs for the evening when he can dance with his friends.
Songwriting really takes the spotlight when Kalantari skillfully weaves other musical genres into her tunes. The quick paced "Are You Afraid of the Dark?" features an original rap by Secret Agent 23 Skidoo wrapped in a jazz number that emphasizes the importance of understanding your fears and asking listeners "Can you turn that bad into something good?" Another fun blend of musical genres occurs in "Bunny Hop" where the main character in the song gets to know Mr. Opera Man (real life opera singer Adelmo Guidarelli), the next door neighbor, who operatically proclaims, "I love bunnies!" Listeners will quickly  find themselves hopping and thumping along to this tune.
While all of these songs are great for family listening, there are also several that would be nice additions to a storytime, program, or classroom lesson. "I Know a Little Fellow" could work to introduce children to musical terms as Kalantari's talented 5 1/2-year-old son demonstrates on the cello the terms she sings about such as pluck, bow, pizzicato, pianissimo, and fortissimo. "La Cosecha" is a fun bilingual song that would fit nicely into a storytime about gardening or community that introduces listeners to a wide variety of vegetables in both English and Spanish. Finally, "The Peace Song" is a lovely call and response song with a special message.
All the Sounds is a joy from beginning to end. Families will find themselves listening to it again and again.