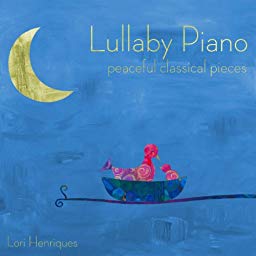 It's hard to believe that we've already arrived at the end of January. At the beginning of each new year, the passage of time tends to be a little disconcerting. In some ways, it feels like we were just raking up the leaves and worrying about the weather for Halloween, yet the pressures to find the right gifts and be filled with Christmas joy seem eons away. And here we are, turning to wave goodbye to the first month of 2020 while at the same time looking forward to the spring and summer and trying to figure out when to fit in that vacation because your schedule is already getting full. Not only is this time of year disconcerting, with the non-stop gray skies and weekly bouts of snow/rain/sleet/snow, it's also exhausting. Luckily, I've found the perfect musical cure for what ails me!
For Part 2 of Jazzy January, let me present the delightful jazz stylings of Lori Henriques! Henriques, a pianist/singer/songwriter, began her children's music career over a decade ago. Her earlier albums such as The World is a Curious Place to Live and Outside My Door feature her lovely voice accompanied by the piano. Then, on the GRAMMY-nominated How Great Can This Day Be, Lori introduces a whole band of amazing musicians who add even more bounce and depth to her music. A hallmark of Henriques's music is its meaningful lyrics that encourage listeners to explore the world around them with eyes and hearts full of kindness and compassion. Nowhere is this message more evident than on her album Legion of Peace, a collection of original songs inspired by an incredible list of Nobel Laureates. When talking about some of the highlights of her career thus far, Lori immediately mentions being granted the great honor of performing for the incomparable Jane Goodall and Former President Jimmy Carter the songs that she wrote about, and for, them.
On her latest album, What Do You Wish, Henriques once again elevates her music by surrounding herself with some of the finest musicians from the Portland jazz scene including Dan Balmer, Dan Faehnle, Paul Mazzio and the great Reggie Houston. Henriques says that she named the group Sunbeam Collective because they were so incredibly joyful. Listeners can feel that joy in every upbeat note. This album also is a family affair. Her son Leo joins in the fun on trumpet and flugelhorn while her daughter Elsa, of "The Poop Song" fame (if you don't know it, look it up!) supplies the precious echoes on the closing song, "Love & Gratitude." Much as she has in her previous albums, in Wish, Henriques fills each song with lyrics about loving yourself, the Earth (including that Everlovin Water) and those around you through continuous learning and self-discovery. Backed by funky jazz rhythms and melodies, the tracks on Wish don't plant themselves in your head like an earworm, but rather slowly soak in, becoming part of your internal songbook without you even realizing it.
Lori Henriques's goal of "Elevating Curiosity and Wonder" through her music is certainly accomplished not just in What Do You Wish, but in all the music she creates. Take a listen. I promise it will brighten your day!