Camp Andyland Performed by Andy Z
Summer is the time of year when kids start heading off to camp. For some it's overnight camp, for some day camp, and for others camp for just a weekend. For those hanging out at home this summer, there's a new fictional camp filled with musical adventures just waiting for them.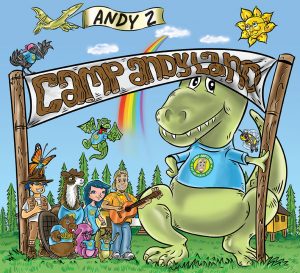 Camp Andyland  is the newest entry in the Andyland series from Andy Z (aka Andreas Zamenes). At Camp Andyland, campers/listeners are welcomed to camp, then treated to a delightful array of songs filled with fun lyrics that will make campers singalong. Each of the original songs tells a story that is packed with information wrapped in beautiful melodies like "Butterfly" and upbeat romps like "Drink More Water." Throughout their time at Camp Andyland, listeners are invited to go stargazing in "Galaxy Song," join in the hijinx in the "Pirate Song" and imagine what it would be like if "I Went to a Party with Dinosaurs." While at camp, they enjoy old favorites like "Sticky Bubblegum" and "Row Your Boat" while learning new nature songs about "Squirrely Squirrel," "Bizzy Bee," and "La Araña Pequenita."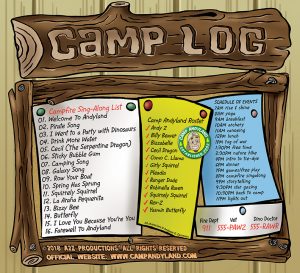 Camp Andyland is a true joy from beginning to end. And speaking of end, I love that Andy Z carried the theme of the album all the way through to the details on the back of the CD packaging, including not just a song list, but a Camp Andyland Roster , a schedule of the day's events while at camp and even emergency numbers for the Vet (555-PAWZ) and the Dino Doctor (555-RAWR).
Check out the video for "Drink More Water" below. I never thought that a song about the need to drink more water throughout the day would be catchy and fun to sing, but this song definitely proved me wrong! (Love the movements that would make this an easy addition to a program!!)