Baby Ninja performed by Kelli Welli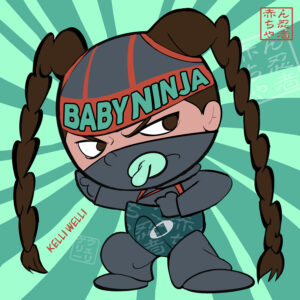 John Lennon Songwriting Contest Grand Prize Winner Kelli Welli (aka Kelli Caldwell) returns with Baby Ninja, her fourth album for families. Kelli's unique style of mixing genres – a little country here, some rock and pop there, and a sprinkle of punk added in for good measure –  is what makes this album stand out. Things kick off with the title song, "Baby Ninja," a rollicking tale of the speed and stealth of a toddler before mixing in over-the-top fun with songs like "Skunk in a Handstand."  While the music is often bold, Kelli's songwriting skills are brilliantly on display with lyrics that are loving and supportive on songs such as "Superstar" and "I Put My Heart Into" which describes making things like bread, a quilt and a rocking horse with love. In other instances, children feel empowered when Uncle Jumbo joins Kelli on "You're a Sunny Day" and as she celebrates the strength of young ones in "Hey Little Hero."  The lively album ends on an unexpectedly quiet note with "Frère Jacques in Five," a rendition of the traditional tune sung in five different languages. 
The fun doesn't end with the album though. Kelli, along with illustrator Belén Toscano, has created a 40-page graphic novel based on the title track. The album cover for Baby Ninja provides an excellent example of just what spirited mayhem to expect. 
Below is the video for the track, "Water Baby." Kelli says of the song and the video, "I've always struggled with fear in water, so I wrote this song to express the awe and happiness I've felt watching my kids' enjoyment in the water. My daughter, especially, was born a water baby. And I'm so grateful for all my cool friends who came out to celebrate their water babies in this video … and reveal their hidden synchronized swimming talents!" Enjoy!