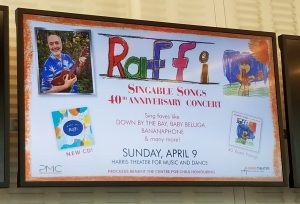 I have to admit, I didn't listen to Raffi as a child. Somehow his music didn't make it to our tiny corner of the world so I was raised on a steady diet of Sesame Street and Broadway musicals. Once I became a librarian though, I quickly became acquainted with storytime staples like "Shake My Sillies Out" and "Down By the Bay" and was soon a Raffi fan. Over the years I have enjoyed each of Raffi's albums and appreciated the way he has always remained true to himself and his style of music. Then, last year I interviewed Raffi via phone for School Library Journal and my admiration for him only increased. Raffi is not just an amazing musician but a strong advocate for children and childhood and being able to have a conversation with him was a great honor.
At this point in my career, I'd listened to Raffi's albums and talked to him on the telephone (not the bananaphone), but had never seen him perform live. Until this past Sunday. It was a beautiful spring day in Chicago and Raffi was in town as part of his 40th Anniversary tour (yes, 40 years of Raffi!) and I was fortunate enough to get a couple of tickets. Not having any small children to accompany me to the concert, I decided to go to the other end of the spectrum and took my 76-year-old dad with me. And what a great time we had.
Before the concert, mothers and fathers could be heard throughout the theater saying, "Raffi's going to sing," "Raffi's coming out soon," "Are you excited to see Raffi?" And then, at ten minutes after 1:00, there he was, the man we had all been waiting to see. The only things on the stage were a stool, a chair, a glass of water, a microphone, a guitar stand, and some bananas, but from the moment Raffi stepped on stage he had the attention of every big one and little one in the house. He jumped right in with some traditional songs weaving his own songs in as well. He sang all his classics including "Apples and Bananas," "Baby Beluga" and "Love Bug" and with every song, the audience sang along. At one point, my dad leaned over and said in awe, "The children know all of the words."
There were a couple of really poignant moments during the concert. The first being when Raffi paid tribute to his friend Pete Seeger with a beautiful rendition of "This Land is Your Land." He sang the first stanza using the landmarks of Canada (Raffi calls Canada home) and the rest of the song using the traditional American landmarks. The second moment was when the whole building quieted down while he sang "Thanks A Lot."
The concert ended with a quick zip through any of his classics that he hadn't already performed and a rousing singalong of "If You're Happy and You Know It." The concert may have only been an hour long, but it was by far, the best hour of the whole week.
I was very fortunate on Sunday because my Raffi concert going experience didn't end there. I had the great honor of participating in the meet and greet following the concert. My dad and I stood in line behind a couple of dozen families as they each took their turn meeting their idol. Raffi's meet and greet is a very personal experience. He doesn't sit behind a table putting a barrier between him and you. He sits in a chair with another beside him for all of his new friends. He takes time to talk with each family, give hugs where they are wanted, signs books and CDs and poses for pictures. Raffi is soft-spoken, humble and kind. It was such a pleasure to meet him. Much like my first concert, my first Raffi concert is filled with memories I will never forget.