Forest Friends' Nature Club Album performed by Ginalina
Target Audience: Preschool to Grade 3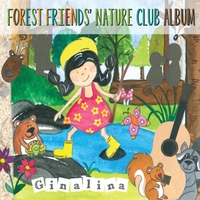 My favorite time of the year to take long walks in the great outdoors is in the fall, when there is just the beginning of a crispness to the air and the leaves are changing colors and drifting to the ground. It's during September and October when those hurried footsteps of summer begin to slow down that I take a deep breath and really enjoy all that is around me. Tonight, I realized as dusk began descending so much earlier than I thought it should, that autumn is really not that far away. And it was then that I remembered this lovely CD that first came to my attention in the spring.
Canada-based singer/songwriter Ginalina perfectly captures the gentle, awesome wonders of nature in Forest Friends' Nature Club Album, her second album for children. A couple of years ago Ginalina, along with her three young children, spent weekly adventures in the forests of British Columbia's Pacific Spirit Regional Park. It was these walks in the woods that became the inspiration for the 15 original songs in this collection. Ginalina's beautiful soprano blends perfectly with among other instruments, banjo, violin, guitar and in one case kazoo, on these folk/pop/country infused tunes. Included on the album are two French language songs. "La Vie est Belle" which has such a catchy melody that even listeners who don't know any French will find themselves singing along and "Play…Jouer," a bilingual echo song that children will enjoy participating in. Songs about friendship and love (of one another and blueberry pancakes) are in this collection as well.
There are also several fact-filled songs that are so well written that children won't realize how much they are learning. "Rainbow" teaches listeners about the colors and science that make a rainbow, while "Honey; We Love You" is a great ode to the honey bee. In addition, "Shapes are Everywhere" is filled with beautiful harmonies that describe all the shapes that can be found in nature. The delightful video below could easily be used in storytime, in the classroom, or before a family walk as an introduction to this concept.
In this world where everyone, no matter how young, is always plugged in, Forest Friends' Nature Club Album is the perfect reminder to take time, relax, and enjoy the amazing beauty that is all around you.