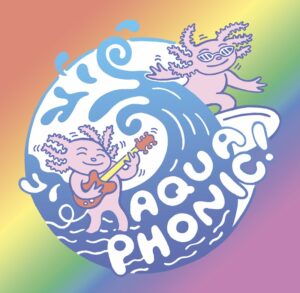 One of the many great things about children's music is how it can make learning fun. Sometimes it's little things like ABCs or counting to 10, but other times, it's bigger things, like scientific concepts. Over the next two album spotlights, I'm focusing on amazing albums that take science and make it fun. First up is the water-themed album, Aqua Phonic, from Marko Polo. In his second album for families, Marko Polo, aka Mark Pagano, a teaching artist based in St. Louis, takes listeners from the smallest drop of water to the greatest oceans of the world.
The eight tracks in this collection are equal parts informative and entertaining with each having a tone that perfectly matches with the song's subject matter. The album opens with "We Are Water," teaching children the properties and science of water before digging into some of the inhabitants of this incredible resource. This is followed by the rock-tinged "Axolotl" a tune crafted by Pagano and a group of middle schoolers about the oddly adorable amphibian before turning to a reggae-infused beat to tell the tale of the "Sirenia," the manatees who were mistaken for mermaids. This is followed by the psychedelic world of the "Coral" before introducing everyone to "Walrus Sings," a pop tune based on an article from National Geographic.
Along with the animals, Pagano also focuses on water as place. He takes listeners to the deepest depths where everything glows at the "Bottom of the Ocean" before taking them back into the light with "Follow the Water." This lovely duet with New Zealander Claudia Robin Gunn features a melody and lyrics that eddies and flows just like the current of the water. The album closes with the beautiful, "Drip Drop." This final track, so skillfully designed, aptly details the water cycle while also speaking to the experience of parents and caregivers – "Time keeps moving like a river/Feels like it's going quicker as I watch you grow."
Pagano's mastery as a songwriter is clear throughout the album as he elevates each tune, sharing facts while setting scenes and telling stories. He is occasionally joined by guest vocalists, but it is his voice that remains front and center, often reminiscent of the vocal stylings of Justin Roberts.  Aqua Phonic would be a great addition to science units or family playlists.