We Stood Up: Reflections on the Civil Rights Movement
Target Audience: Grades 3 to 6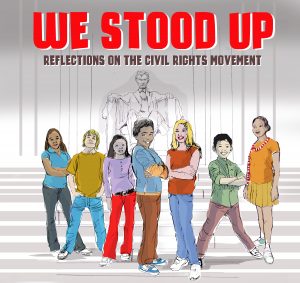 Students have many options nowadays when learning the lessons of history – they can read  a book, a newspaper or magazine article written at the time, or watch a movie, documentary or news clip. Or, sometimes most powerful of all, they can close their eyes and listen to those who lived through that period tell their stories in their own words. And that's what We Stood Up does – provides students and teachers with the opportunity to hear from those who experienced the Civil Rights movement first hand. People like Congressman John Lewis, former Atlanta mayor Shirley Franklin, Greensboro Four member Franklin McCain and Julian Bond, activist and founding member of the Southern Poverty Law Center.
The 41 tracks follow an arc beginning with "The Value of Freedom," that leads to "Reflections on the Civil Rights Movement" and concludes with "Continuing the Legacy." Each section contains interviews and first hand accounts, poems and original songs. We Stood Up, along with an educator's guide, are available as free downloads for teachers and community groups and can be accessed here. We Stood Up is a fantastic resource for classroom lessons, homeschooling families and those who want to learn more.  View the trailer for this resource below (Note – the CD was released on iTunes in August).