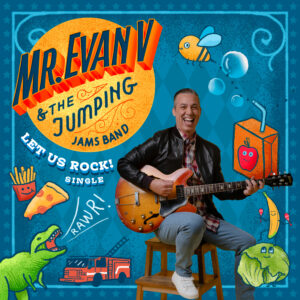 We are thisclose to the beginning of August already and many families that I know are beginning to experience the summer slump. That time of year when most of the fun activities that you'd been looking forward to all winter are now over and the rush to get ready for school has begun. Stir into that mix some really unpleasant temperatures, and all anyone wants to do is hang out inside and chill. That's where Mr. Evan V & the Jumping Jams Band's video "Let Us Rock!" comes in. 
Featuring Mr. Evan V and an electric guitar driven melody, "Let Us Rock!" showcases children dancing and moving around outdoors to a rocking beat and lyrics that encourage listeners to, "Let us rock and shake all of your blues away." Viewers will be hard-pressed to ignore the energy and excitement of "Let Us Rock!" and will soon find themselves clapping and dancing along.  
There is a real versatility to Mr. Evan V's music. Check out his YouTube page for more videos including his latest, "Swimming in the Water," which is a gentle, animated delight.